TIME ROLLING's third generation Modular Downhole Tractor Tool is a big force(2,250 lbs) wireline conveyance system to transport wireline tools into high angle and horizontal well profiles, which is available in a 4.5 inch to 9.5 inch hole.
It is an efficient, safe and cost-effective conveyance system compared with drill pipe conveyed system with shorten conveyance time and longer conveyance distance.
The tool consists of a number of easy-to-transport sections that form a short tool when assembled together. A complete tool contains bridle joint, swivel sub, electronic circuit section, upper centralizer, Hydraulic pushing section, traction section and lower centralizer. Real-time log of tractor speed, tractor load, voltage and currency of the tractor, the arm open position etc. can be monitored on PC on surface system.
The Features of Time Rolling Modular Downhole Tractor (MDT)
- It can offer 2,250 lbs push/pull force @ 4.5 inch operation ID.
- Helicopter transportable tractor with surface system
- Compatible with third party downhole tools.
- Hydraulic pushing system guarantee flexible arms/wheels following ID variations in well.
- Wheels life can reach 10,000 meters.
- Up and down hole driven by electric motor.
- Adjustable 6 arms centralizer is adjustable for different ID wells.
- Logging While tractoring in real time using a 2~6 conductor cable.
- Provide a low cost and time-saving solution for horizontal/deviated wells down-hole tools transports which earlier required coiled tubing or drill pipe conveyance.
- Flexsub and swivel sub is available.
- Bi-directional, equal force
Applications of Modular Downhole Tractor(MDT):
- Production logging
- Logging while tractoring in real time.
- Deployment of bridge plug in highly deviated wells.
- Well cleaning
- Perforation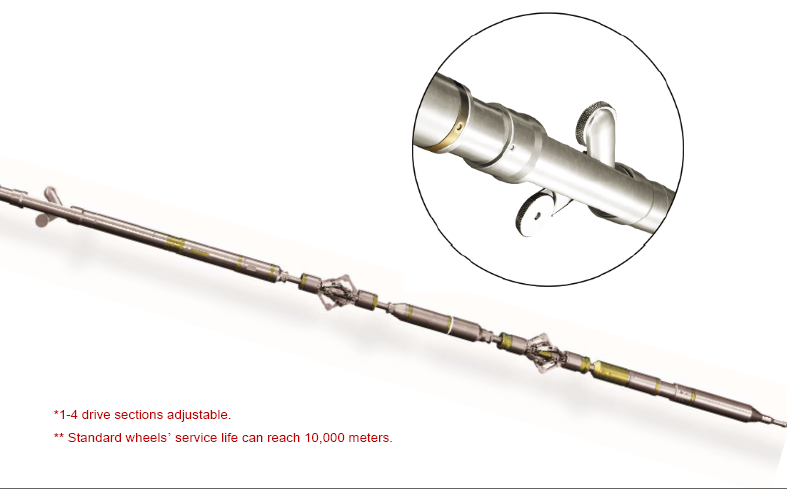 You may also like



Drilling Rigs Barite Powder Mud Pumps BOP