TRPT D series high speed rotary tablet press machine is new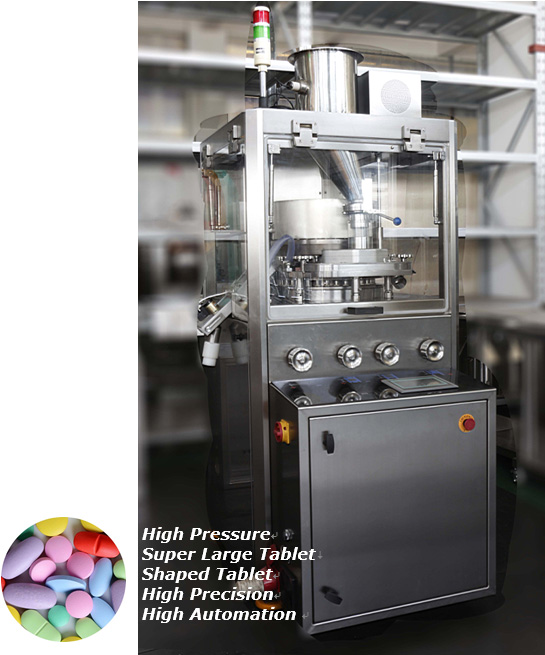 designed to provide high performance and reliability.
It has
excellent standardization and modularity in series.
The TRPT D series high speed rotary tablet press
machines are very cost-effective for
pharmaceutical packaging.
Main Features
●
All parts in contact with the product are made of SS316/304
or other FDA-approved materials.
●
PLC
control
●
Main parts from world leading brands include SIEMENS,
SCHNEIDER
and OMRON etc.
●

Reliable overall sealing and dust-proof system.
●

High visibility isolated door to prevent cross contamination.
●

Easy remove parts for maintenance.
●

360 degree for easy observation and cleaning.
Excellent Tablet Pressing System
Pre-pressure and main pressure, compact design and five-pole
construction to ensure no deforming upon heavy load pressure,
long doing well time and steady performance, increasing tablet


weight accuracy and tablet hardness control.
Force Feeding System
High precision, easy removed force feeder with two agitators
for improving granule fluidity to ensure precision feeding for
tablet press.
Automatic Tablet Weight Control System
TRPT D series tablet press machines use PLC control system
with POD interface for operation, automatic tablet weight
tolerance monitoring and controlling.
Reliable Electric System
Advance control theory and reliable electrical components and
spare parts from world leading suppliers to ensure program
control and interlock protection.
Central Lubrication System
Intermittent rated tiny flow auto pressure lubrication system
with high precision central lubrication pump and distributing
value to ensure full lubrication punches and tracks as well
as to avoid lubrication contamination.
Main Technical Data for TRPT D26
●

Quantity of Punch & Die: 26 sets
●

Tooling Type: D
●

Main Pre-pressure: 30 kN
●

Max. Pressure: 100 kN
●

Max. Dia. of Tablet: 25 mm
●

Max. Thickness of Tablet: 10 mm
●

Max. Depth of Filling: 20 mm
●

Middle Die Diameter: 38.1 mm
●

Punch diameter: 25.35 mm
●

Rotation Speed: 110 rpm
●

Production Capacity: 171,600 t/h
●

Voltage: 380/50 (V/Hz)
●

Motor Power: 7.5 kW
●

Outside Size: 820×1100×1750 mm
●

Weight: 1,600 kgs
Dust Collector TRCJ-1.1
Performance

It's widely used to clean dust on the equipment and in the
environment of industrial production, such as medicine,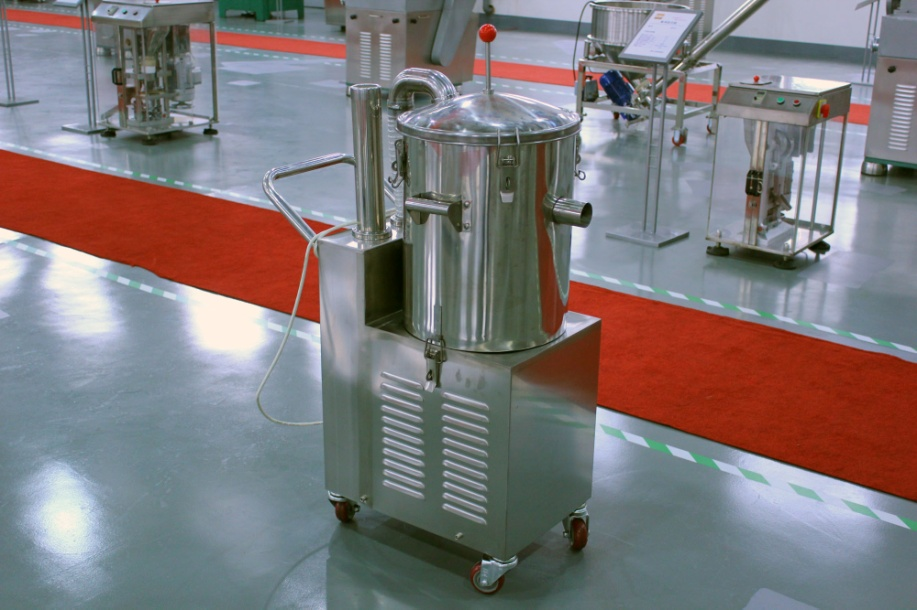 foods, chemical and industries etc. All parts in contact
with the product are made of the stainless steel.
Main Technical Data for TRCJ-1.1
●

Air-breathing Volume: 360 m3/h
●

Min. Vacuum Target: 19,500 pa
●

Total Power: 1.1 kW
●

Overall Size: 700*460*1030 mm
●

Weight: 70 kgs
Vacuum Conveyor TRVC-1
Performance
The third generation vacuum convey uses multi-stage ejector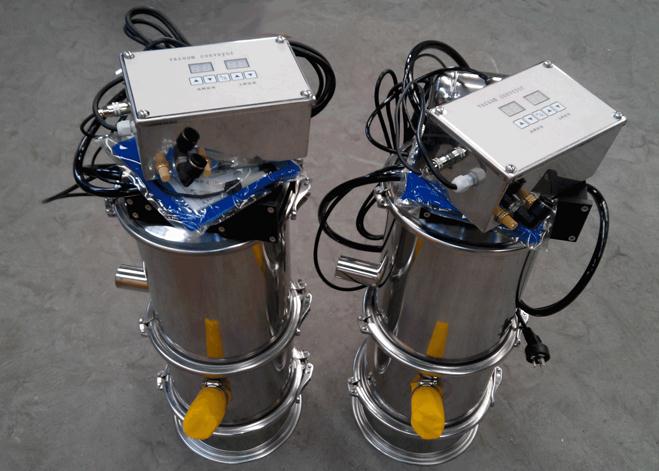 pump and metal filter. It can be used for powder and
granules. It has the function of eliminate the static electricity.
Main Features
●

Using compressed air as primary energy sources
●

According with GMP standard
●

Solving the stratification of powder and granules
●

The filters made of Ti will never be jammed and be abraded
●

Eliminate the static electricity
●

Made of nontoxic and corrosion resistant materials
●

Leakage free capsule, to prevent cross contamination
●

Materials are not adhering to the inner surface of the conveyor
●

Intelligent control and high automation
●

Modular structure, easy to clean and dismantle
Main Technical Data for TRVC-1
●

Transportation Ablitiy: 350 kgs
●

Air Pressure: 0.6 mpa
●

Air Consume: 180 L/min
●

Overall Size: Dia.140*560 mm
●

Weight: 35 kgs
Tablet Deduster TRFQ-300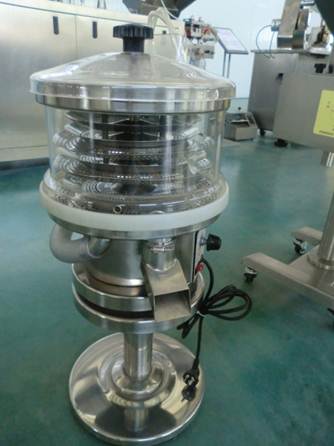 Performance
The TRFQ-300 Tablet deduster is an auxiliary mechanism of
high tablet press to remove some powder stuck on surface
of tabletsin pressing process, it's widely used in chemical,


pharmaceutical, food industies.
It's used in conveying
tablets, lump drugs or granules with dustlessness and
be suitable for joinning with an absorber or blower as
vacuum cleaner with high efficiency, better dust-free
effect, lower noise and easy maintenance.
Main Technical Data for
TRFQ-300
●

Productivity: 550,000 t/h
●

Max. Noise: 82 db max.
●

Dust Scope: 3 m
●

Atmospheric Pressure: 0.2 mpa
●

Overall Size: 410*410*880 mm
●

Weight: 35 kgs
Metal Detector TRTF-II
Performance

This metal detector is mainly used for metal impurities
detecting in tablet press production line.
Main Technical Data for TRTF-II
●

Sensitively (fe) : ¢1.0 mm
●

Sensitively (s.s): ¢2.0 mm
●

Detection Width: 400 mm
●

Detection Height: 150 mm
●

Motor Power: 1.5 kW
●

Overall Size: 1300*830*1000 mm
●

Weight: 300 kgs
For more information about TR packaging machines, you are
most welcome to email

sales@timerolling.com