Time Rolling is a vibrant company that specialises in high quality and economical oil & gas equipments, oilfield chemicals and pharma machines. Time Rolling is a recognised leader in these areas in China and well respected by peers and customers across the world.
Founded in 2007, the Time Rolling Group is located at Liaohe Oilfield, which is the largest production base for heavy oil, ultra heavy oil and high pour-point oil in China, involved in the Oil and Gas, Chemicals, Minerals, Cold Chain, Pharma & Medical and Real Estate etc.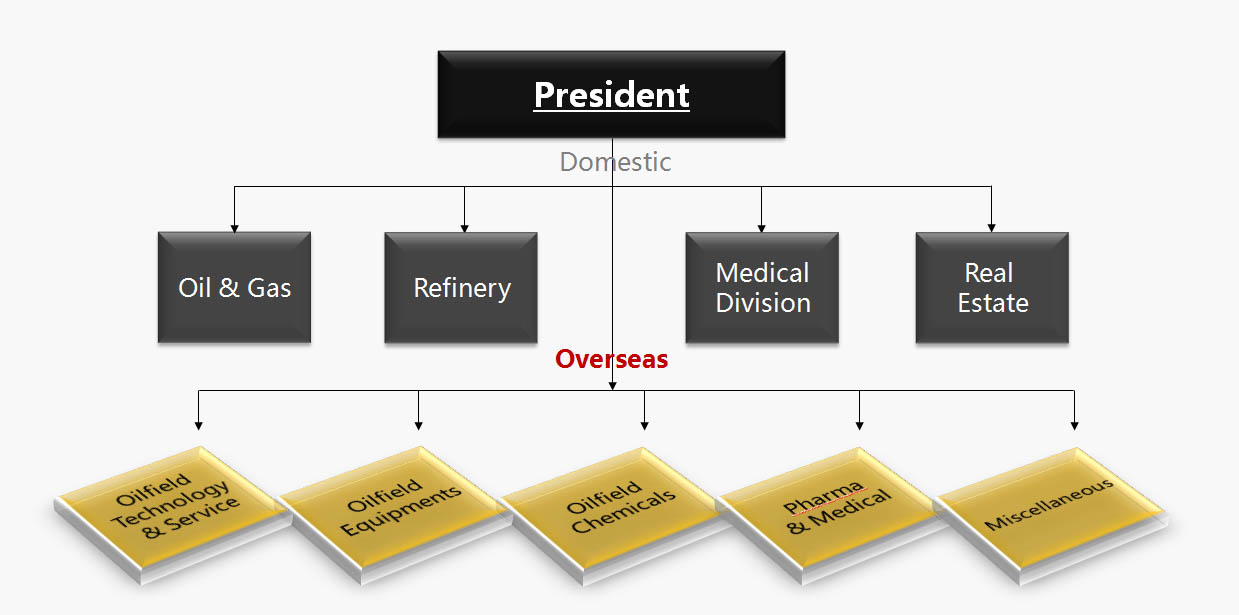 Oilfield Technology & Service
Time Rolling is a vibrant company that engaged in Oil & Gas Exploration, Development, Production and Refining activities.
Exploration
Supported by our experienced personal and large seismic data processing center, Time Rolling is able to provide Seismic Services and Comprehensive Reservoir Study for desert, plains, mountains, swamps and seas.These include 2D & 3D Seismic Data Interpretation, 2D & 3D Seismic Data Processing, Fine Structural Interpretation, Balanced Section, Forward Modeling, Reservoir Inversion, Oil Reservoir Description, 3D visualization Display, Geological Modeling etc.
TR provides a full service 2D and 3D processing capability to address the most difficult exploration or production problems faced by our clients. We are more professional and more economic.
Completion and production
One of the significant strengths of our service is the cutting-edge technology in the heavy oil production. Our professional team has rich experience in heavy oil and high pour-point oil(Max. @ 67℃) completion and production. Including Steam Stimulation, Steamflood, Steam Assisted Gravity Drainage(SAGD) and Sand Control etc.
Fracturing and acidizing technology including well diagnosis, reservoir simulation, fracturing design, fracturing construction of the fracturing supporting technology series, 6000 meters deep fracturing acidification engineering capacity, Green downhole workover operation technology etc. Especially the Finely Stratified Fracturing technology and hydraulic sand-blasting fracturing technology application in the world's rare high pour-point oil developments.
Time Rolling's Wellhead Plugging Ball provides a new Profile Control and Water Plugging solution for our clients. It will automatically block high absorption water layer blast-hole to achieve the effect of water injection profile. Simple Operation on site, no jobs, fixed string, recycle plugging balls by conventional flushing. No jamming, workover and other risks. Good performance, decrease water cut, start new absorption water layers, restarted inactive wells nearby. It can save 50%+ cost than mechanical water plugging process.
Time Rolling's sucker rod swivel can greatly reduce the sucker rod pumping cost and mechanical failures like bent rod failures, thread-off failure, connection failure and sucker rod sticking etc. Time Rolling's sucker rod swivel can prolong the Maintenance-free operating period for oil wells. It has ability to rotate a full 360° around its own centerline and provide around 1" off-center deflection. Our sucker rod swivel can automatically adjust the diviation/direction, prevent thread off, over torque and avoid eccentric wear.
Oilfield Equipments
Time Rolling is one of the leading oilfield equipment suppliers that provides a large variety of professional products for oil & gas industries worldwide.
Time Rolling can provide Modular Drilling Rigs, Fast Moving and Fast Installation Drilling Rigs, Helicopter Drilling Rigs, Low Temperature Drilling Rigs, Truck Mounted Drilling Rigs and Trailer Mounted Drilling Rigs etc.
Time Rolling's mud pumps use high precision and hard Double Helical Gears, which can offer lower noise(quieter in running) and longer service life than any other brand mud pump. Time Rolling provides high quality Mud Pump replacement parts for world leading brands including Mud Pump Liners, Mud Pump Fluid End Module, piston, Valve & Seat etc.
Time Rolling can customize various well control products, such as Gate Valves, Chock Valves, Swivel Joints, Crossover Adapters, Integral Fittings, manifolds and BOP. Our products can even reach 20,000 psi harsh conditions, 100% tested for every parts, trustworthy and cost-effective choice for you.
Time Rolling offers 5,000 psi, 10,000 psi, 15,000 psi 20,000 psi anti-sulphur sand separator system to prolong the service life of well testing equipments. Emergency Shutdown System(ESD) Steam Heat Exchanger, Surge Tank Measuring Tank Transfer Pumps Chemical Injection Pump are alao available for well surface testing applications.
Time Rolling also offers drill pipes, drill collars, drill bits, OCTG & Line Pipes, and Modular Downhole Tractor(MDT) etc.
Time Rolling's sucker rods advanced continuous upsetting automatic production line is from Russia origin. Our sucker rods are high strength. They 100% pass the rod head fluorescent magnetic particle testing. The maximum output of our sucker rod factory can be 5 million meters/year.
Time Rolling provides a complete series of workover rigs with the maximum static load ranging from 300 kN to 2,250 kN ( 67,440-505,800 lbs ) and installed power ranging from 235HP to 1300HP. Snubbing units and Flush-by rig are also available to meet our client's specific requirements.
Time Rolling API 11E standard pumping unit are structurally simple, super-reliable in performance, easy in installation and maintenance. We can also provide a wide series pumping units can be provided as per our client's well conditions.
Time Rolling also offers fracturing unit 2000hp/2300hp/2500hp/3000hp, sand filter 10k/15k, sucker rod pumps, choke manifolds, electrical feed through system for ESP system etc.
As a leading supplier of chemical pump that focuses on heavy industry, Time Rolling API standard centrifugal pumps offer you durable and competitive solutions to meet the needs of your specific requirements in high corrosive and harsh working environments. They are widely used in oilfield, refinery, mining, power station and water treatment projects. Our products include but not limited to American Petroleum Institute (API) Standard centrifugal pumps, chemical pumps, twin screw pumps, three screw pumps, gate valves, globe valves, ball valves and butterfly valves etc.
Time Rolling's experienced and expertise team provides customer-made and one-stop solutions/products for the needs of oilfield chemicals including drilling fluid products, cementing additives, workover & completion fluid products, production chemicals, and fracturing fluid products. You can acquire such chemicals and additives that have the same high-quality and high-performance as those world leading brand products but at low costs.
Time Rolling enjoys strong market trust, respect and reputation through providing high quality products and services to its worldwide clients for more than 8 years. You can always count on us for high quality pharmaceutical Machines and medical products with a low-cost. Our large range of products includes medical equipments, pharmaceutical machines, pharmaceutical raw materials, and individual pharmaceutical production line solutions to suit your specific requirements.
Miscellaneous
Time Rolling offers miscellaneous products including chemicals, Mechanics & Electrics.
Time Rolling offers a large range of high quality chemicals from China, including food additives, industry chemicals and oilfield chemicals etc. Our xanthan gum, sodium formate, potassium formate and sodium sulphate anhydrous etc. are selling very well in the market.
Time Rolling is specialized in supplying breakbulk chemicals and minerals. Our products include API barite powder 4.2SG, soda ash dense/light and sodium sulphate anhydrousetc.
Time Rolling also offers you various customized products and equipments. This includes, for example, cold chain products, construction equipments, transformer, forklift, and solar pumping system etc.
Logistics & Contract
Time Rolling's Logistics & Contract Department makes customized manuals for all clients since your first order, your specific requirements are recorded in the books like quality requirements/standard, inspection requirements/standard, documents requirements(Documents Legalization, R.N.C. NO., CNPJ NO., Form Series C/O) and other requirements etc. Our staff will strictly follow this customized manuals to make sure you get the best products and services based on your special requirements.
Your concern is what we care! Choose Time Rolling, choose a reliable partner!
Our Values-
"Honesty & Good Reputation!"